WELCOME TO DISCOVER YOU RADIO'S PODCAST/BLOG EPISODE #3 
WITH SPECIAL GUEST
EMILY GLAZENER 

Sharing the Bottoms Up Blue Berry Smoothie ingredients Again
and Sharing on the SHIBA INU Crypto Currency 
---
Emily Glazener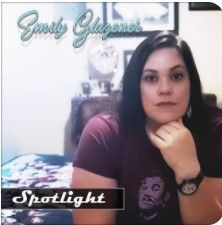 Emily Glazener is the lead singer for the band called Red Iris. She has also gone on to start her own solo career with her new song titled Spotlight which will be released in November 2021. Emily's music inspires many people all over, and she is a strong mother who lost her husband recently. As she explains in this podcast, Moonlight is about her last conversation with the love of her life and the song reflects that.  
What's the most beautiful thing you've ever heard? A feeling of peace. When a song is recorded with Emily Glazener, it seems she'll magically awaken that emotional resonance within with her lyrical sound waves. Her current single titled Spotlight illuminates a voice powerful enough to be followed, setting a tone for inevitable rebirth and renewal in old passion sparks brought back to life by a single track on this new recording! Have you been looking for someone who can sooth those restless nights or light up those dark moments? They might have been present all along--you just forgot they were there even as it grows brighter with every play of Red Iris' music. 
---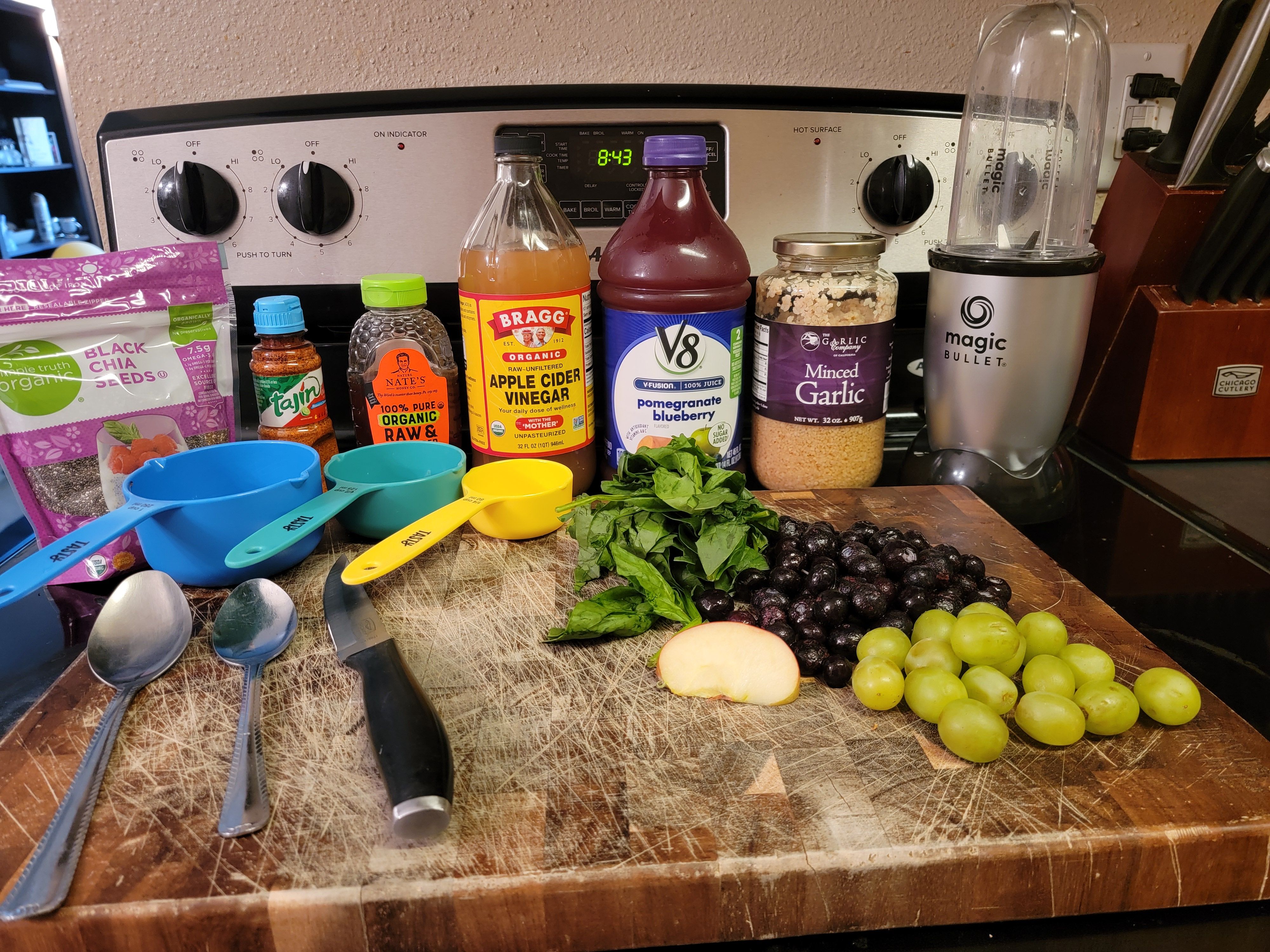 BOTTOMS UP BLUEBERRY 
I found that breakfast was always the toughest meal for me to keep up with. So, I decided to start making smoothies in advance and then freezing them so they are ready when I need them! This way my mornings are easy breezy because all I have to do is grab a glass of juice from the fridge, add water or milk if needed, pop it into the blender along with some fresh fruit (berries work best) and blend until smooth. Now, not only am eating healthy but my wallet feels better too!! Check out this recipe below- you'll be surprised how good it tastes! 
Remember to list these ingredients in order: 
1/2 Cup of Spinach: Spinach is a nutritional powerhouse with health benefits that are too good to pass up. With the power of spinach, you'll be on track for your daily needs in vitamins A, C and K1. Plus it's packed with carotenoids which will promote skin health and immune function. 
1 TBSP Local Honey: Now you can get all the benefits of fresh honey without bringing home bees! Say goodbye to your allergies by using our locally sourced, raw, and unfiltered honey. Raw honey is great for health and tastes so delicious on toast or with a hot cup of coffee. Local farmers live right down the street from us and we wanted to support them best we could while providing the consumer at home the perfect remedy against allergens in their area. This means more net happiness! Plus, if your local bee industry collapses, who will be left to pollinate all of our food? Pair this with plenty of sunlight and enjoy honey that's just as natural as it should be - unpasteurized and unprocessed thanks to good old Mother Nature herself 
1 TBSP ACV:  Health benefits of Apple Cider Vinegar is a natural laxative and it can improve digestion, lowers blood sugar levels, improves insulin sensitivity, increases satiety and helps people to lose weight, reduces belly fat, lowers cholesterol, lowers blood pressure and improves heart health 
1 TSP Tajin: There are days, some months even, when life is richly satisfying. We have the same small triumphs over and over again that give us a sense of accomplishment—wave after wave even. Edible things that don't just taste good but pleases the senses on all levels with different textures both physically and emotionally. Like Tajín Clásico for example which is made up of spices you can actually see adding more to your smoothie satisfaction level than any other ingredient does. And its magic mostly happens in your food's flavor profile where it heals what was wounded giving whimsy to something not always wholly enjoyable. 
2 TBSP Chia Seeds: "And what do we have here? Ahem- a strange little black seed! If you think these tiny things are going to make me run out of energy in the kitchen, then your expectations are far too low. So I'm going to shatter that illusion by slamming these down my pie hole every morning for breakfast." 
Health Benefits: 
Fiber: 11 grams. 
Protein: 4 grams. 
Fat: 9 grams (5 of which are omega-3s). 
Calcium: 18% of the RDI. 
Manganese: 30% of the RDI. 
Magnesium: 30% of the RDI. 
Phosphorus: 27% of the RDI. 
They also contain a decent amount of zinc, 
vitamin B3 (niacin), potassium, vitamin B1 (thiamine) and vitamin B2 
1 Apple Wedge: It's time to fight your gut! These little apples are not that bad for you. Sure, the old song says they're bland, fat-laden "apple peels." But these days wedges are nothing but apple skin with a tiny bit of sugar, good fiber and health benefits! Ease your woes by eating well so you can live well forever! 
1/2 TSP Minced Garlic: Garlic is the thing that food just shouldn't be without! Lemons and milk, we get it. With garlic in our smoothie because let's face it: there is nothing more flavorful than garlicky goodness! It doesn't matter if you're cooking for health or preparing a dish to impress your company - garrlliiiceeee can combat sickness including the common cold. Did someone say perpetual garlic? 
1 Cup Frozen Blueberries: We all know that blueberries are pretty much the best fruit there's nothing cheaper or more nutritious. Don't believe me? Well I have some salient arguments, for example: it's been shown to protect against heart disease and cancer, and can also help maintain bone strength, mental health, and healthy blood pressure. Not satisfied? Why don't you let me tell you about what they taste like just picked from the bushes with a handful of green leaves still on them – so fresh it almost tastes like candy – but without any of those nasty artificial ingredients we always hear about. Forget oranges – we'll swap 'em for these bad boys! 
1/2 Cup Green Grapes: Shopping for grapes? You can't go wrong with these green guys. Guaranteed to set the table just right, folks, you're not gonna want to miss out on these juicy Green Grapes! And if you think that all grapes are the same, then think again. These flavorful little suckers come in four different shades—black, red, yellow and green! So grab a few bags of all your favs today and bring home a haul that's ripe orchard fresh! Trust me: These babies will taste even better after they've been plucked from their personal vineyard over there at The Store. 
One cup (151 grams) of red or green grapes contains the following nutrients (1): 
Calories: 104 
Carbs: 27.3 grams 
Protein: 1.1 grams 
Fat: 0.2 grams 
Fiber: 1.4 grams 
Vitamin C: 27% of the Reference Daily Intake (RDI) 
Vitamin K: 28% of the RDI 
Thiamine: 7% of the RDI 
Riboflavin: 6% of the RDI 
Vitamin B6: 6% of the RDI 
Potassium: 8% of the RDI 
Copper: 10% of the RDI 
Manganese: 5% of the RDI 
1 Cup V8 Pomegranate Blueberry juice: V8 Pomegranate Blueberry Juice is infused with the rich taste of pomegranates. This product has no artificial color, flavors, or preservatives and comes in a refreshing 16oz can. So go ahead--try it. You know you want to! This gives your smoothie an awesome taste to top off with.
---

The NEW CRYPTO CURRENCY CRAZE!
I Bought Mine!
The Shiba Inu token envisions a future where everyone from kitties to doge memes can be traded as easily as cryptocurrencies, and people can use their shibas for art or other projects. Beginning October 25th this Crypto is supossed to be avaibale on the Robin Hood Trading App. 
The SHIB Token is a decentralized ERC-20 Ethereum-based cryptocurrency that desires to rival the popular Doge Coin. Unlike Bitcoin which is designed to be scarce, SHIB tokens are intentionally abundant with one quadrillion in circulation. With strong community involvement, Shibaswap has an NFT art incubator creating collections of digital goods that appreciate in value over time while developing into something new like 'Eshapes' 
Click on the Coin Base Picture to Start Your Wallet.