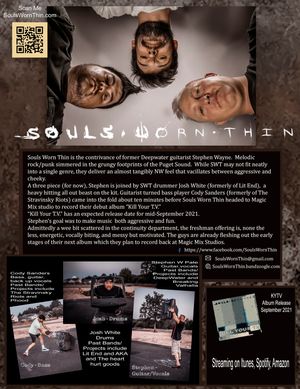 Souls Worn Thin
Will Stenner of Discover YOU RADIO discusses music and how Souls Worn Thin was able to obtain the licensing rights of Nirvana's popular song titled Breed. 
Working Class with a punk sensibility 
Souls Worn Thin is the contrivance of former Deepwater guitarist Stephen Wayne.  Melodic rock/punk simmered in the grungy footprints of the Puget Sound.  While SWT may not fit neatly into a single genre, they deliver an almost tangibly NW feel that vacillates between aggressive and cheeky.  SWT offers a scathing rebuke of manufactured division permeating society with the same ferocity they rebuke craft beer. 
A three piece (for now), SWT drummer Josh White (formerly of Lit End) is a heavy hitting all out beast on the kit.  Guitarist turned bass player Cody Sanders (formerly of The Stravinsky Riots) came into the fold about ten minutes before Souls Worn Thin headed to Magic Mix studio to record their debut album "Kill Your T.V." 
The lost year of 2020 for music in the Pac NW turned out to be a gift for the newly formed band.  Whilst the venues were on lock-down, Souls Worn Thin was busy working on their first album.  Named after the title track, "Kill Your T.V." was released on September 15th, 2021. 
The local scene has a heavy influence on the guys.  They try to get out to as many other local band's shows as often as they can.  The scene took quite a beating during the last garbage sauce of a year; it's important to go to the shows, buy that band's t shirt, and over-tip your bartender. 
This freshman offering is energetic, lyrically biting but snarky, and messy but motivated.  The guys are already fleshing out the early stages of their next album which they plan to record back at Magic Mix Studios with the incomparable Daum Duo. 
 Album released online Sept. 15th 
Stephen Wayne 
Guitar, vocals, 
Past Bands/Projects include DeepWater, Breaking Valhalla, and Stephen Wayne Solo Project 
Cody Sanders 
Bass, guitar, Back up Vocals 
Past Bands/ Projects include The Stravinsky Riots and Phood 
Josh White – 
Drums 
Past Bands/ Projects include Lit End and AKA and The Heart Hurt Goods